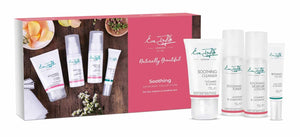 Skincare kits are the perfect way to trial our collections and discover the perfect products for your skin.
Contains:
Soothing Cleanser 50ml
Soothing Toner 50ml
Refining Eye Gel 15ml
Soothing Moisture Lotion 50ml
Skin type/condition:
Products for dry, mature, menopausal, or mildly sensitive skin.
This range uses essential oils such as Geranium, Eucalyptus, and Lavender within its formulations.