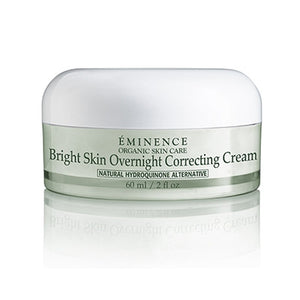 Description:
Brighten skin with this ultra-rich moisturizer formulated to address the look of hyperpigmentation while you sleep. It delivers potent actives that visibly reduce the look of age and dark spots for a luminous complexion. In combination with a Natural Hydroquinone Alternative, these actives create our most powerful skin brightening botanical blend to date.
Retail size: 2 oz / 60 ml
Key Ingredients
Natural Hydroquinone Alternative: Brighten skin with African potato and tara tree. Aids in fading the look of age spots and freckles while promoting a smooth, even complexion.
Gigawhite™: Skin brightener. Targets the appearance of melanin.
Punarnava Root Extract: Evens skin tone, and reduces the look of various types of dark spots
Stone Crop: Brightens and moisturizes the skin.
Licorice Root Extract: Brightens the appearance of skin
Bearberry Extract: Targets the look of hyperpigmentation
Shea Butter: Moisturizing. High in triglycerides.
Results
Visibly reduces the appearance of hyperpigmentation
Revitalizes and brightens skin
Protects against transepidermal water loss (TEWL)
Improves moisture and hydration
Eminence is constantly innovating our product formulations to deliver the best results. 
We Believe in:        We say NO to:

 Organic                
 Parabens            

 Natural                 
 Phthalates

 Biodynamic®        
 Sodium Lauryl Sulfate

 Sustainable           
 Propylene Glycol

 Cruelty Free          
 Animal Testing

Our natural, organic and Biodynamic® ingredients may have slight variations from harvest to harvest.