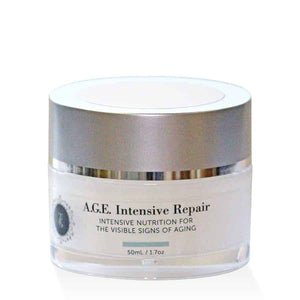 A.G.E. Intensive is a regenerative and nourishing moisturiser offering intensive nutrition that aids in the remediation of visible signs of aging. Five powerful synthesized growth factors and Vitamin B9 are united with three resilience-enhancing plant stem cells.
Argirelox™ Peptide Solution, Acmella Flower Extract, and Hyaluronic Acid defend optimal hydration levels and healthy exchange within the dermal matrix.
Benefits
Stimulates and nourishes mature skin. Guatuline stimulates metabolic activity in the dermis enhancing skin density and firmness. For those of you using injectables such as Botox, this product is highly recommended for daily use as it actually extends the life of the injectable being used.
Directions for use
Following cleansing and toning, apply a serum of choice and then apply the crème onto the face, neck, and décolleté. Gently massage into the skin and allow several minutes for full absorption. Use day or night. It is highly recommended to pair it with Dermaboost Serum for maximum results.
Featured Ingredients
Argirelox™
Bio Placenta (Plant Based)
Gardenia Stems GX™
Gatuline® In-tense
Size: 50ml