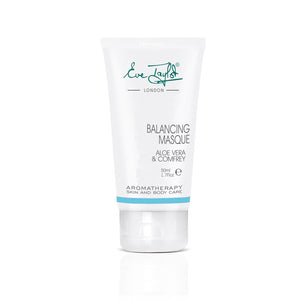 Description: 
A creamy textured hydrating masque with clays to lift impurities whilst botanical extracts soothe, condition and equalise the skin.
Skin type/condition:
Normal and combination skin.
Features & benefits:
Restores hydration and nourishes drier areas of a combination skin.
Natural clay lifts excess oil and impurities without over drying the skins surface.
A variety of botanicals provide skin conditioning benefits for a soft and supple skin.
Key ingredients:
Lavender: balances the skin, providing anti-septic and anti-inflammatory benefits.
Comfrey: calms inflammation with its skin soothing actions whilst promoting skin healing.
Smectite Clay: lifts impurities from oilier areas.
Borage Seed Oil: rich in Gamma Linoleic Acid, reinforces the skins natural barrier function and encourages healing effects.
Aloe Vera: intensively hydrates the skin with moisture, softens and soothes any sensitivity whilst healing the skin at the epithelial level.
How to use: Apply a thin layer to face and neck using fingertips. Leave for 10 minutes. Rinse with tepid water.
50ml