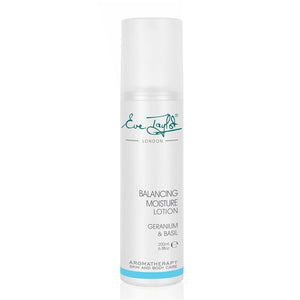 Description: 
An ideal light textured moisture lotion to hydrate and protect skin. Geranium, Lavender and Basil essential oils assist in restoring and maintaining balance to skin with varying oil production.
Skin type/condition:
Normal or combination skin. Those who prefer a lightweight textured moisturiser.
Features & benefits:
Lightweight lotion absorbs easily into the skin, offering equalisation to combination skin types and assisting with oil regulation and balance.
Provides light hydration without feeling heavy on oilier areas.
Perfect to be used as a daytime moisturiser or in areas of high humidity due to the light texture.
Key ingredients:
Basil, Jasmine, Geranium, Lavender and Rosewood: the specialist blend of essential oils creates a harmonious balance in the epidermal layers for optimum skin health.
Sodium PCA: easily accepted by the skin, binds moisture increasing hydration levels.
Sweet Almond Oil: abundant in fatty acids to nourish and protect the skin and defend against environmental assault.
Glycerine: a potent humectant which binds moisture to the skin. The natural affinity with both water and oil allows easy absorption over lipid-based substances.
Avocado: rich in Vitamins A, D & E imparts anti-oxidant protection which nourishing the epidermis
How to use: Apply using light fingertip pressure in upward strokes to face and neck. For maximum skin protection continue with sunscreen protection such as Solar Shield or C+Bright in morning.
200ml