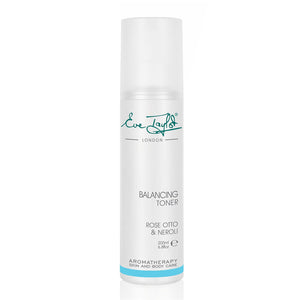 Description: A
A balancing formulation with Rose and Neroli to help hydrate and refresh, maintaining skin's healthy texture whilst uplifting the senses with its comforting, reassuring aroma.
Skin type/condition:
Normal or combination skin.
Features & benefits:
Intensively hydrates the epidermis and reduces dehydration whilst offering skin firming actions.
Wonderful pleasing aroma calms and comforts the senses.
Acts as a great skin tonic.
Hydrating and mildly astringent to freshen the skin.
May be used to refresh the skin throughout the day, even over make-up.
Key ingredients:
Aloe Vera Juice: intensively hydrates the skin with moisture, softens and soothes any sensitivity whilst healing the skin at the epithelial level.
Rose Otto: helps to firm and tonify the tissues.
Neroli: offers rejuvenating benefits the skin.
Witch Hazel: imparts a refreshing, mildly astringent quality
How to use: With closed eyes spray a fine mist to face and neck. Continue with moisturiser.
200ml