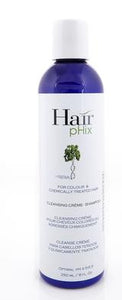 *Use immediately following any chemical treatment to gently and naturally cleanse the hair cuticle and scalp * Visibly repairs the hair and scalp within 2 weeks of use.
* Use on clients with fresh colour to lock in and extend colour life * Use after keratin straightening services to extend the life of the treatment * Low lather vegan formula closes the cuticle and gently removes impurities from the hair and scalp * Free of sulfates/sulphates and harsh cleansing ingredients * Low pH (4.5-5.5) ensures the cuticle is closed and no further damage will occur at the scalp through the tips of the hair.
Gardina-gardenia Jasminoides Stem cells

Multi -level protection of collagen system


Restores the balance collagen turnover

Deep replenishing and restructuring treatment
Lilac-Syringa Vulgaris Stem cell extract
Helps balance seborrhea


Reduces skin blemishes and redness


Helps reduce inflammation
Apply Hair pHix Cleansing Crème from the scalp to the ends of your hair. With no harsh stripping surfactants, Cleansing Crème low lather organic base formulation will close the hair cuticle, sealing in colour, straightening treatments and perms. Cleansing Crème will gently remove any chemical residue.
FREE Shipping on Hair PHix Orders over 39.00