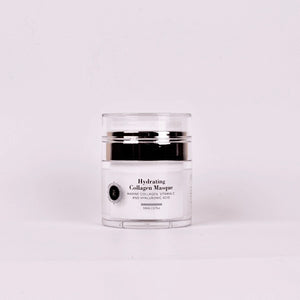 Enjoy an intensive burst of hydration with this lightweight leave-on treatment that locks in moisture and nutrients while you sleep or anytime you need a boost. High and low molecular weight Hyaluronic Acid and Collagen, release nourishment deep into the dermal layer restoring the skin's optimal water supply. An anti-oxidant blend of Green Tea, Asafetida, Vitamin C, and E enhance resilience leaving skin feeling smoother,
softer, and more supple.
Magnesium Ascorbyl Phosphate, a form of vitamin C aids in collagen synthesis and help target areas of pigmentation. Asafetida Extract inhibits the synthesis of melanin to even skin tone and promotes skin lightening.
Benefits
Provides anti-aging effects, building collagen fibers Reduces melanin production, leaving the skins complexion bright and even Builds of the collagen fibers Hydration and firmness
Featured Ingredients
Green Tea
Hamamelis Virginiana
Low Molecular Weight Hyaluronic Acid
Marine Hydrolyzed Collagen
Directions for use
A Low Molecular Weight Collagen Masque Apply an even layer over face and neck, leave on for 10 to 15 minutes. Remove with warm towel or sponges. Optional: leave on overnight as a sleep masque. Remove and proceed with daily routine.
Size: 50ml/1.7oz