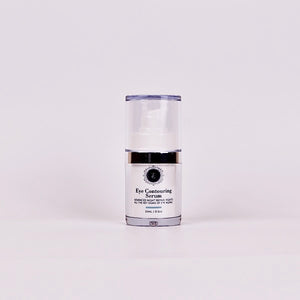 This highly concentrated oligopeptide treatment is a botanical remedy that targets concerns typically associated with chronological aging in and around the eye area. Based on clinical studies, skin became firmer and more elastic in appearance in as little as 8 weeks. Rich in saponosides and flavonoids, this serum strengthens capillaries and reactivates microcirculation. Skin complexion becomes more even resulting in a younger and a more vibrant appearance.
Benefits
Firms around the eye area Strengthens capillaries and reactivates microcirculation Relaxes fine lines and wrinkles
Featured Ingredients
Eyeseryl™
Hyaluronic Acid
Leuphasy™
Directions for use
A Highly Concentrated Serum with Peptides that Target Fine Lines and Wrinkles Apply Contouring Eye Serum with ring finger around the eye are and out towards the temples.
Size: 15ml/.5oz