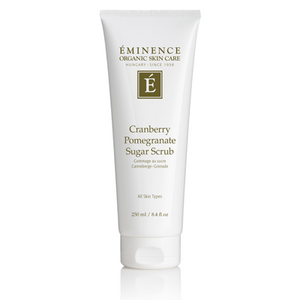 Vitamin-rich cranberry and pomegranate enriches your skin's appearance, while a raw sugar scrub exfoliates and buffs. 
Key Ingredients:
Cranberry: high in vitamins and antioxidants to reduce the appearance of wrinkles
Pomegranate: high in polyphenol and antioxidants to protect and balance skin
Raw Sugar Cane Granules: contain natural Alpha Hydroxy Acid for natural exfoliation
Green Tea: high in antioxidants, polyphenols, flavonoids, and vitamins for youthful looking skin
Comfrey: reinforces skin with moisture
Butcher's Broom: helps skin appear firmer
Sweet Almond: softens and relieves skin
Grape Seed Oil: contain antioxidants that deliver hydration
Ground Flaxseed: contains Omega 3s and antioxidants to support the skin
Biocomplex™: a booster of antioxidants, vitamins, Coenzyme Q10, and Alpha Lipoic Acid to reduce the appearance of wrinkles and improve the appearance of skin
Results:
Skin appears silky smooth and radiant
Skin tone appears tightened and refined
Skin appears nourished and healthy
Apply a layer of the scrub to damp skin, preferably during the last part of a shower or bath. Massage in circular motions on legs, hand arms, elbows and any part of the body that needs soothing. Rinse well with warm water and pat dry.  If needed, follow with a body lotion according to skin type. 
SOY FREE
GLUTEN FREE

8.4oz / 250ml