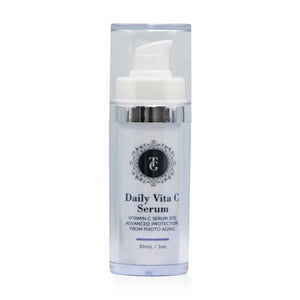 Vita C Serum is a high potency multi-C cocktail that drenches skin in an infusion of powerful anti-oxidants. Vitamin C and Vitamin E offer advanced protection from photo-aging and dermal instability caused by free radical aggression. Fast penetrating this formula combats UVA/UVB damage while delivering intensive levels of skin revitalizing and collagen synthesizing nourishment.
Benefits
Infuses vitamin C into the skin providing antioxidants Advanced protection from photo-aging and dermal instability cause by free radical aggression Helps in production of collagen.
Directions for use

High Potency Multi-C Cocktail Serum with an Infusion of Powerful Antioxidants. Apply 2-3 pumps of serum to face and décolleté each day and night following thorough cleansing of skin. Ideally used in the day time to prevent UV damage and hyperpigmentation. May be used under nourishing moisturizers.
Featured Ingredients
Astaxanthin
Ferulic Acid
Kakadu Plum Extract
Sodium Ascorbyl Phospate
30ml