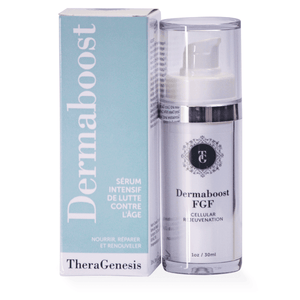 Firming Collagen Serum with Stem Cells
This revolutionary Fibroblast Growth Factor Serum targets age related degradation, reactivating both collagen and dermal activity. Boosted with stem cells from the Swiss Apple, Centella Asiatica and Jasminoid stem Cells, this dynamic serum boosts skin density and improves texture and firmness. In clinical studies, it has been found to be more effective than Vitamin C. The high antioxidant activity provides a deep firming action helping to improve skin tone and elasticity.
Daily use is highly recommended.
Benefits
Advanced Technology helps to stimulate a younger looking skin 3 kinds of powerful stem cells boost skin density, correct age related degrada-tion and boost the activity of cells. Helps build collagen in the skin leading to firmer, younger skin
Directions for use
A Revolutionary Fibroblast Growth Factor Serum that Targets Age Related Degradation Professional Use: Post peel. Gently apply to face and neck, with upward movements. Followed by a cream that is suited to skin type.
Featured Ingredients
Apple Stem Cells
Gotu Kola (Centella Asiatica Stem Cells )
Linefactor™
30ml