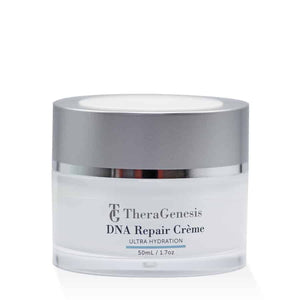 Day Crème with Sea Buckthorn, Q10, Hyaluronic Acid and Vitamin C
This luxuriously rich hydrating crème contains CoQ10, Hyaluronic Acid and natural source antioxidants. It encourages moisture retention and increased elasticity and is ideally suited for those who experience dehydration or lack of vibrancy caused by aging or environmental factors. Revitalizing botanicals and a rich emollient base visibly improve moisture levels making this crème excellent for day or night time use.
Benefits
Strengthens barrier function to assist in the healing of the skin. Improves elasticity of the pilosebaceous follicle walls, helping refine the appearance of pores Tightens, soothes irritation and helps speed cellular renewal. Provides increased hydration particularly when the skin has been impaired by external stressors.
Directions for use
Luxuriously Rich Hydrating Crème Client use: After cleansing, apply the appropriate serum and toner. Apply a small amount to moist skin and massage gently. Rub between fingers before applying for best results. Professional Use: Use as finishing moisturizer after serum selected for skin type. Apply to face and neck massage in gently with fingertips.
Featured Ingredients
Blueberry Seed Oil
Co Enzyme Q 10
Fucus Vesiculosis
Hydrolyzed RNA/ DNA
50ml/1.7oz