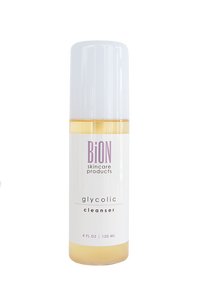 Glycolic Cleanser is designed for clients with oily to excessively oily skin. As it enters the follicles to clear them of cellular debris, it also provides minor antibacterial action. The 4% glycolic acid works to retexturize the surface of the skin and is fast acting. It removes make-up and efficiently removes oils and lipids.  pH 3.7
Can be used as cleanser for acne and mature skin.
For oily to excessively oily skin
Provides minor antibacterial action
Contains glycolic acid
Refreshing citrus scent
Key Ingredients:
Glycolic acid
Algae extract
Aloe vera
Hydrolyzed sweet almond protein
Grapefruit extract
How to use:
For home use, apply to skin, lather with water and rinse, twice daily. For the professional, use as an initial cleanser and again just prior to peels or microdermabrasion to maximize the depth of penetration.
Retail in 4 oz.