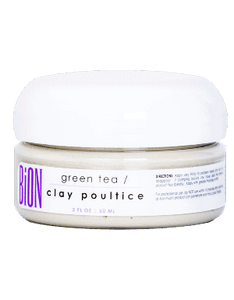 This unique product literally pulls the infection and developing infection up and out of the skin.  Green Tea Clay Poultice blocks the action of 5 alpha-reductase, has powerful anti-inflammatory benefits and reduces irritation.  It also works well for skin infections, bee stings, bug bites, and other forms of inflammation.  This product is step 3 in our three step system for acne control for all skin types.
Montmorillonite clay helps pull infection up and out of the skin
Blocks action of 5 alpha-reductase
Anti-Inflammatory benefits and reduces irritation
0.1% Salicylic Acid
How to Use:
For use following Salicylic-Glycolic Gel or Follicle Clearing Lotion. Apply very thinly to problem areas and rub in to disappear. If clumping occurs, you have used the previous product too liberally. Apply with greater thickness in the evening. For the professional, do NOT use within 10 minutes after steaming as too much product will penetrate and may cause stinging.
Key Ingredients
Montmorillonite Clay
Green Tea Extract
Betaglucan
Cinnamon Extract
Willow Bark Extract
Hydrocotyl (Centelia Asiatica)
2 oz