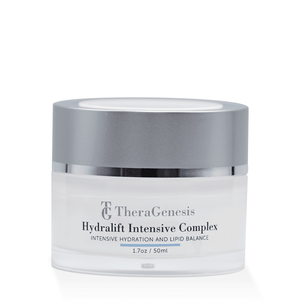 Intensive Moisturizer with Telomere Technology
This remarkable "Fountain of Youth " moisturizer stimulates elastin, smooths fine lines, tightens, firms and fortifies. Linoleic and Linolenic acid-rich Inca Inchi Lipactive™ promotes epidermal lipidic barrier formation. Renovage™ targets telomeres, extending the cell life and resisting the natural aging process. Ultra Filling Spheres, containing Hyaluronic acid and Konjac Spheres, penetrate the upper layers of the epidermis, rapidly tightening the skin and smoothing out wrinkles. The skin is left with a supple, smooth appearance and an elastic skin surface with long lasting hydration.
Benefits
Peptide enhanced serum help to boost collagen production Ultra filling spheres increase hydration Tightens, firms and smooths fine lines and wrinkles Natural moisturizing properties from Organic Shea, Mango and Cocoa butter.
Directions for use
"Fountain of Youth" Moisturizer that tightens, firms and fortifies Apply Hydralift Serum or Select appropriate serum for face and apply. Finish by applying Hydralift Moisturizer to face and neck with light upward movements.
Featured Ingredients
Inca Inchi Lipactive™
Renovage ™
Syniorage™
Ultra Filling Spheres
50ml/1.7oz