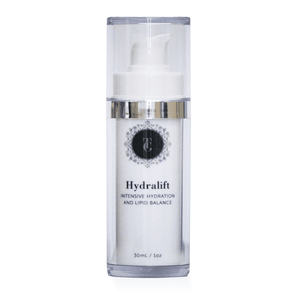 Hydrating, Collagen Boosting Serum with Hyaluronic Acid and Firming Peptides
A unique serum that reshapes, restructures and firms mature skin while resisting dehydration from transepidermal waterloss. Certified Organic lipactive Inca Inchi Oil,® rich in Omega 3, 6 and 9, protects and softens skin by preserving the natural lipid balance. Hyaluronic Acid and Konjac Spheres penetrate the upper layers of the epidermis absorbing water that evaporates from the deep dermis. The volume of the spheres increases, rapidly tightening the skin, smoothing out wrinkles and leaving an elastic skin surface with long lasting hydration.
Benefits
New technology helps give a younger radiant looking skin Provides moisture and protection to the natural lipid barrier Gene targeting peptide stimulates collagen Lift and Firms around the jaw line
Directions for use
Dispense a small amount onto the finger pads and apply to clean, dry skin. Use morning and evening. Follow with Hydralift Intensive Complex Moisturizer and/or use the Neck and Face firming cream in the evening.
Featured Ingredients
Hyaluronic Acid
Inca Inchi Lipactive™
Sesaflash™
Squisandryl ™
30ml