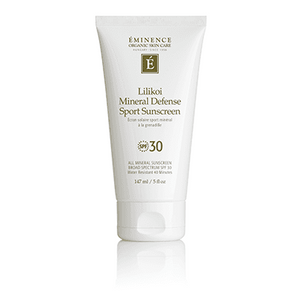 VEGAN
NUT FREE
GLUTEN FREE
An easy-to-apply sport formulation for face and body, this SPF 30 mineral sunscreen is non-greasy and water-resistant up to 40 minutes. Highly effective for outdoor activities like swimming and high-performance sports where perspiration can impact standard sunscreen efficacy, this zinc oxide sunscreen protects from head to toe.
Key Ingredients
Zinc Oxide: natural mineral blocks UV rays to protect skin from sunburn
Lilikoi (Passion Fruit) Seed Oil: contains Vitamin C and antioxidants which help with the visible signs of aging
Raspberry Seed Oil: moisturizer. Antioxidant and rich in Vitamin C which minimize the appearance of aging
Aloe Vera: moisturizer; soothes dry skin, alleviates the appearance of damage from sun exposure, hydrates and softens the skin
We Believe in:        We say NO to:

 Organic                
 Parabens            

 Natural                 
 Phthalates

 Biodynamic®        
 Sodium Lauryl Sulfate

 Sustainable           
 Propylene Glycol

 Cruelty Free          
 Animal Testing

Our natural, organic and Biodynamic® ingredients may have slight variations from harvest to harvest.