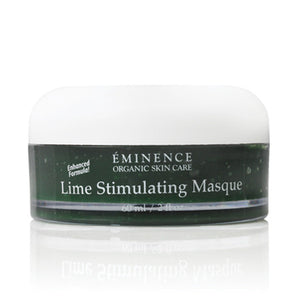 Stimulating and revitalizing
Skin Type:
 Dehydrated, fatigued, mature, oily or problem skin types
Revitalize and brighten your complexion with our Lime Stimulating Masque. The natural phytohormones and vitamins will leave your skin appearing rosy with increased circulation. Note that this active mask will leave a normal redness for up to two hours after treatment. 
Key Ingredients:
Lime & lemon: antioxidant; source of vitamin C
Thermal Water: source of minerals to the skin; softens and nourishes the skin
Nettle: stimulating
BioComplex: a booster of antioxidants, Coenzyme Q10, and Alpha Lipoic Acid to reduce the appearance of wrinkles and improve the appearance of skin
Results:
Skin is stimulated resulting in a rosy glow
Assists in stimulating blood circulation
Skin appears firm, fresh and smooth
Problem skin areas are improved
Complexion appears revitalized and more youthful
How To Use:
Emulsify a small amount of mask in your hand with a few drops of water. Apply evenly over the entire face as well as the neck and décolleté areas if desired. Allow mask to dry 5–10 minutes then gently scrub off in a circular motion with a lukewarm face cloth. Rinse thoroughly with clear water.
Heated skin and a slight redness are natural reactions to Special Treatment products.
2oz / 60ml