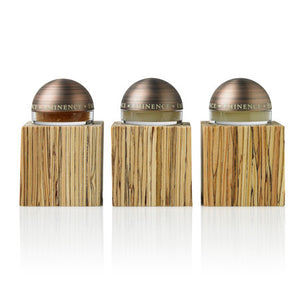 Description:
 Erase winter dryness and treat your lips to a naturally effective three-step treatment. Gentle fruit enzymes refine the lip area, followed by an extra rich masque that deeply hydrates. Finish with a delicious minty non-petroleum based take-home balm that stimulates lip-plumping collagen. This new collection is a great add-on treatment to offer during a facial. Your lips will have a ball!
Step 1: Citrus Enzyme Lip Exfoliator
Effective citrus and pineapple enzymes refine the lip area removing dryness and fine lip lines. Potent fruit pulp infuses bioflavonoids and vitamins to parched lips leaving them smooth and ready for the next step.
Key Ingredients:
Orange Peel: vitamin C, antioxidant and polyphenols-rich
Lemon Peel: contains fruit flavonoids, antioxidants and phytonutrients
Ground Walnut: vitamin E; gentle exfoliation
Pineapple Enzyme: bromelin (plant) enzyme dissolves proteins
Step 2: Lip Comfort and Plumping Masque
Deeply hydrating with rich shea butter and avocado oil this whipped dream melts into lips and lip contour area to impart incredible softness while natural peptides stimulate collagen production and fullness.
Key Ingredients:
Shea Butter: calming and moisturizing
Avocado Oil: moisturizing
Hawthorne Berry: provides antioxidants and vitamin C
Step 3: Citrus Lip Balm
A petroleum-free citrus treat for the lips with shea butter and sunflower seed oil to give lips maximum hydration and a sexy sheen. With continued use, over a four week period, the natural peptides give a collagen boosting plumping action that fills in fine lines and makes lips voluptuous and youthful.
Key Ingredients:
Sunflower Seed Oil: rich in vitamins A, D and E
Shea Butter: calming and moisturizing
Lemon Balm: antioxidant, rich in Vitamin C, toning and calming
Ask your skin care specialist about this active add-on treatment for your lips!
5.07fl oz / 150ml