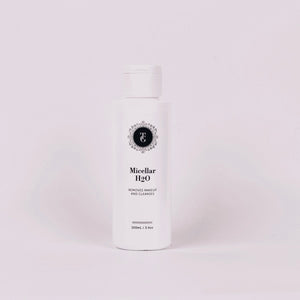 Mild yet effective, Micellar 2-in-1 Cleansing Water elevates effortless skin care to new heights. This deal-action formula acts as both a gentle cleanser and a waterproof makeup remover in one. Tiny micelles act as magnets to tap dit, oil and makeup without stripping away natural moisture. Botanical extracts of Acai, Goji Berry, Pomegranate, Noni Fruit, Camu Camu, Green Tea, and Coffee infuse the skin with nourishing vitamins and antioxidants. In a single step, skin is cleansed, toned and hydrated.
Benefits
Cleanses and tones and removes excess oil Removes waterproof makeup Softens, nourishes and hydrates dry skin
Featured Ingredients
Aloe Vera (Aloe Barbadensis Leaf Juice)
Camu Camu
Goji berries
Green Tea
Micelles
Directions for use
Using a damp cotton pad, apply a small amount of product. Remove eye and lip make up. Turn the pad over add a little more product if required and remove foundation.
Size: 100ml/3.4oz