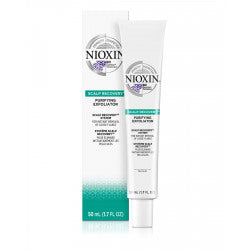 The NIOXIN Purifying Exfoliator Scalp Recovery™ Treatment is a mechanical scalp exfoliator service suitable for both men and women.
This cosmetic flaky scalp scrub mechanically gets rid of scalp flakes, debris and dead skin cell build-up, providing a clarifying scalp facial that will leave you feeling clean and smooth.
Features & Benefits
for instant flake removal.

eliminates scalp flakes, debris and build-up, such as dead skin cells.

and refreshes the scalp.
Nioxin Scalp Recovery™ Purifying Exfoliator is a treatment that mechanically removes scalp flakes, debris and build-up, such as dead skin cells. It normalizes a flaky scalp leaving it refreshed and sets the foundation for the Nioxin Scalp Recovery 3-step system. It contains ZPT-NIODerma™ Technology (with Pyrithione Zinc, an FDA-approved active ingredient) and green tea extract. The unique anti-dandruff system gently cleanses your scalp and helps to restore its natural balance.
How to Use
Apply to a dry scalp in a grid-like pattern, massage the scalp gently for 5 to 6 minutes using the Circle-in-Circle massage technique.

Rinse product from scalp and hair with warm water, while gently working the treatment out of the scalp and hair.
15ml