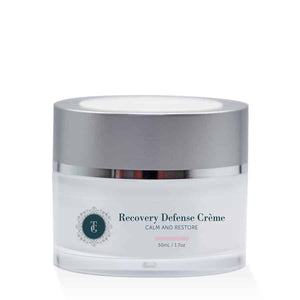 Restorative Crème with Calendula and Aloe
Chronic low-grade micro-inflammation can cause visible consequences on the skin such as deterioration of DNA proteins. Inflammation affects normal skin barrier function and can result in accelerated aging. Recovery Defence Creme contains several active components that target chronic itchy, red or problematic skin resulting from allergic responses, environmental sensitivity or abrasion as a result of a more aggressive professional treatment. The significant anti-oxidative and anti-inflammatory benefits help to protect and maintain epidermal stem cell capacity, therefore, is recommended for professional prescriptive homecare.
Benefits
Strengthens barrier function to assist in the healing of the skin. Improves elasticity of the pilosebaceous follicle walls, helping refine the appearance of pores Tightens, soothes irritation, and helps speed cellular renewal. Provides increased hydration particularly when the skin has been impaired by external stressors.
Directions for use
Luxuriously Rich Hydrating Crème Client use: After cleansing, apply the appropriate serum and toner. Apply a small amount to moist skin and massage gently. Rub between fingers before applying for best results. Professional Use: Use as finishing moisturizer after serum selected for skin type. Apply to face and neck massage in gently with fingertips.



Featured Ingredients
Biophytex
Delisens Solution
Ribes Nigrum
Telangyn
Size: 50ml/1.7oz