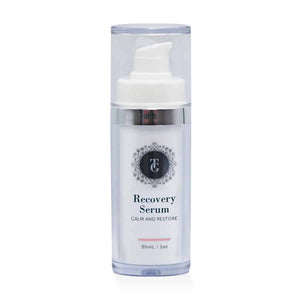 Restorative Serum for Sensitive Skin
Sensitive, hot and itchy skin is often caused by excessive inflammation which affects skin barrier function and eventually can lead to accelerated skin aging. Recovery Serum is a highly effective daily use serum that alleviates stressed, sensitive or irritable skin by boosting anti-inflammatory processes that support recovery of the skin barrier. An infusion of 15% Arnica Extract enhances the appearance of dry or damaged skin by reducing flaking and restoring suppleness. An excellent product for reducing post treatment redness and inflammation.
Benefits
Anti-inflammatory support for the skin Hydrates dry or damaged skin, restoring suppleness Effectively reduces inflammatory process.
Directions for use
First Aid for Inflamed Skin. Recommended Post Treatment wherever inflammation or redness has occurred. Apply 1-2 pumps of serum day and night. Followed by Recovery Defense Crème.
Featured Ingredients
Arnica Extract
Cucumber Seed Oil
Defensil® - Plus
Tego Stemlastin
30ml