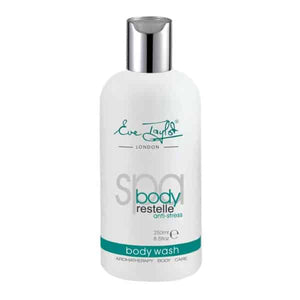 A cleansing stress relief body wash to leave the skin super clean, moisturised and body relaxed
Skin type/condition:
All skin types.
Key ingredients:
Coconut cleansing agents: offer soap free cleansing.
Glycerin: softens and hydrates the skin
Essential oils: Mandarin, Petigrain and Lavender provide a relaxing aroma.
Benefits:
The deep aroma of natural essential oils assist with relaxation and easing of daily tension. This hygienic dispensing body wash ensures effective and thorough cleansing. Soap free to leave skin feeling soft and moisturised.
Homecare use:
Dispense into hands, foam with water and cleanse body.  Alternatively, may be dispensed to dampened wash cloth or exfoliating cloth.  May be added to bath for a relaxing soak.