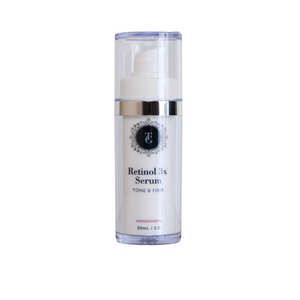 This anti-aging elixir containing three important forms of Retinol, is a highly effective anti-wrinkle solution designed especially for those who do not tolerate the drying effects of prescription Retin-A®.
This serum helps to balance both Perimenopausal and menopausal skin that may be blemish-prone and developing the first signs of aging. With fast results the skin feels more toned and firmer, reducing the appearance of pigmented areas, fine lines and wrinkles.
Benefits
Three forms of Retinol provide a highly effective formula with limited skin irritation. - Antioxidant ingredients protect skin against environmental factors that accelerate the aging process of cells. - Triple retinol action plus glycolic acid will aid cellular turnover, minimize lines, even out pigmentation ideal for mature skin. - Formula allows for gentle follicle decongestion, making this work well for those experiencing hormonal breakouts especially during perimenopause and menopause while additional aging effects are also occurring.

Featured Ingredients
Glycolic Acid
Hydroxypinacolone Retinoate (Vitamin A)
Retinol (Vitamin A),
Retinol Palmitate (Vitamin A)
Tocopherol (Vitamin E)
Directions for use
After cleansing apply a small amount of serum to the finger pads and gently work into the skin until fully absorbed. Complete your routine with an appropriate moisturizer. Recommended For Evening Use Only. Not intended for use by pregnant and lactating women. For external use only. Avoid contact with eyes. Keep out of reach of children. Caution: Use of this product may increase sun sensitivity and should be used with adequate sun protecti
Size: 50ml/1.7oz