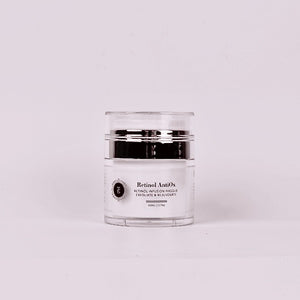 This 3-in-1 mask exfoliates, tightens, and rejuvenates skin for a one step treatment that delivers immediate gratification. Pineapple and Papaya enzymes enhanced with Lactic Acid provide effective yet gentle elimination of dead cells revealing fresh, glowing skin that's receptive to active ingredients.
Retinol helps firm skin by stimulating collagen production reducing fine lines and increasing elasticity. Green Tea, CoEnzyme Q10, and Resveratrol are potent antioxidants protecting against environmental pollutants. Even sensitive skin experiences an instant glowing, soft, and smooth result.
Benefits
Retinol infusion mask helps encourage cellular renewal, collagen production and boost skin elasticity. Enzymes gently decongest skin, particularly beneficial for those experiencing hormonal breakout in perimenopause/menopause. Resveratrol, Q10, Green Tea provide antioxidant protection against oxidative stress to slow visible signs of aging. Resveratrol and lactic acid brighten skin complexion for an increased healthy skin glow.
Featured Ingredients
Bromelain
Co Enzyme Q 10
Lactic Acid
" onclick="myFunction(this)">Papain
Resveratrol
Retinol (Vitamin A),
Directions for use
RECOMMENDED USE On clean skin, apply to entire face and neck. Allow to remain on skin for up to 10 minutes as tolerated. Remove with a damp cloth, rinse well and pat dry. CAUTIONS For external use only. Avoid contact with eyes. Keep out of reach of children. Patch test all products before use. Not intended for use by pregnant and lactating women. For external use only.
Size: 50ml/1.7oz