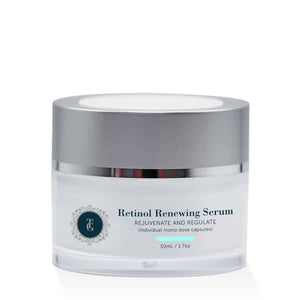 A powerful multi-functional serum capsule containing Retinol and Lipochroman™. This anti-aging treatment serum, refines the overall look of the skin and improves texture. Offering anti-oxidant benefits along with effective RNS and ROS scavenging properties it provides the most complete protection against free radical damage. Skin cells are therefore protected from damage such as structural alteration of proteins, inhibition of enzymatic activity and interference of the regulatory cellular function.
Retinol 1% One of the most effective vitamins for anti-aging due to its capacity to stimulate collagen production, accelerate cell reproduction and normalize skin keratinization.
Size: 21 Capsules
Benefits
Combats signs of aging, antioxidant benefits Free radical scavengers help protect the skin Silicones help to restore barrier, helping to prevent dehydration.
Directions for use
Powerful Multi-functional Serum Capsule Nighttime use only. Apply to skin after cleansing and top with Revitaderm Moisturizer.
Featured Ingredients
Ceramide NP
Lipochroman-6™
Retinol 1%