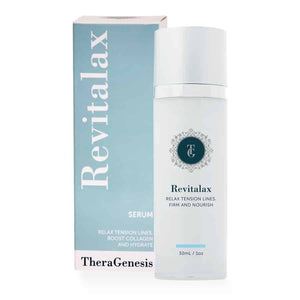 Age Defining Antiwrinkle Serum with Peptides
Redefine the appearance of wrinkles. This intensive age-defining revitalizing serum contains Argireline™ and GABA to relax muscular tension, preventing and softening the appearance of fine lines. Syn-coll™ replicates collagen synthesis combating visible signs of aging resulting from collagen depletion. Hyaluronic acid microspheres offer hydration and nourishment to areas depleted of natural moisture immediately improving the appearance and texture of the skin.
Benefits
Relaxes muscles to relax the lines created by expression aging Hydrates and plumps lines giving a softened and smoother skin Improves over all appearance of skin.
Directions for use
Botanical Alternative to Botox Pairs Well with Revitaderm Complex Apply Serum to face and neck after moisturizer and before make up. An excellent make up primer.
Featured Ingredients
Argeriline ™
GABA
Palmatoyle tripeptide 3
Syn-Coll™ Palmitoyl Tripeptide 3/5
30ml