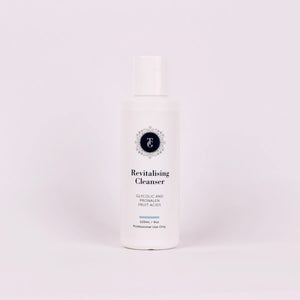 An exfoliating cream cleanser that revitalizes skin while removing daily residue, makeup and oil which can dull a vibrant complexion. This product with a pH of 3.5 encourages cellular turnover and renewal. The action of Glycolic acid is supported by Tartaric acid, Lactic acid and Pineapple enzymes beautifully complimented by a rich complex blend of natural plant extracts such as Articium Lappa, Symphytum, Taraxacum, Echinacea, and Passiflora.
Benefits
Exfoliates and Cleanses the skin A.H.As help keep pores clear while encouraging cell turnover Removes daily residue, makeup and oils
Featured Ingredients
Burdock Root Extract
Comfrey
Glycolic Acid
Pronalen Fruit Acid
Directions for use
Designed with the more mature client in mind, this rich ,creamy exfoliating cleanser with Glycolic Acid, is preferably used in the evening If used in the morning, sunscreen is highly recommended as Glycolic acid can cause sun sensitivity. Client Use: Wet hands, face and neck. Gently massage in a small amount of cleanser, avoiding eye area. Rinse thoroughly and follow with toner and moisturize Professional Use: Dampen skin with moist sponges, rub small amount of cleanser between hands then massage onto face and neck in circular motions, avoiding eye area. Remove thoroughly with moist sponges. Excellent for use as a prepping cleanser before exfoliation.
Size: 120ml/4oz