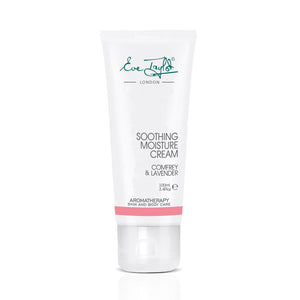 Description: 
This creamy moisturiser soothes, softens and hydrates dry, sensitive skin
protecting from environmental elements. The fresh and subtle aroma of
anti-inflammatory essential oils helps keep skin calm, moist and supple.
Skin type/condition:
Mature, sensitive skin experiencing dryness and dehydration. Those who prefer a richer textured moisturiser.
Features & benefits:
Nourishing, creamy moisturiser provides vital oils to nourish, soften and protect dry skin.
Essential fatty acids nourish and repair to leave skin supple, hydrated and protected from the environment.
Anti-inflammatory blend of essential oils soothe and calm irritated skin.
Key ingredients:
Cypress, Eucalyptus, Geranium, Lavender & Sandalwood: this expertly blended synergy of essential oils reduce and calm inflammation whilst offering a soothing benefits to overactive mindsets.
Sweet Almond Oil: abundant in fatty acids to nourish and protect the skin and defend against environmental assault by strengthening the barrier and reducing the pathway for irritants to penetrate.
Beeswax: boasts an array of skin benefits with its multi-use actions. Hydrates the skin sealing in moisture which offering excellent healing with its anti-inflammatory nature
Sodium PCA: easily accepted by the skin, binds moisture increasing hydration levels.
How to use: Apply using light fingertip pressure in upward strokes to face and neck. For maximum skin protection continue with sunscreen protection such as Solar Shield or C+Bright in morning.
100ml