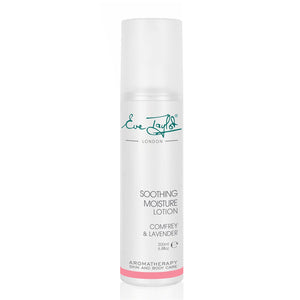 Description: 
This ultra light moisturising lotion absorbs readily into the skin providing
sheer protection. With essential oils to soothe and calm the skin while
Comfrey and Vitamin E heal and protect.
Skin type/condition:
Mature or sensitive. Those who prefer a lightweight textured moisturiser.
Features & benefits:
Lightweight lotion absorbs easily into the skin.
Provides light hydration and protection, ideal for younger skin or skin which experiences mild sensitivity.
Perfect to be used as a daytime moisturiser or in areas of high humidity due to the light texture.
Key ingredients:
Cypress, Eucalyptus, Geranium, Lavender & Sandalwood: this expertly blended synergy of essential oils soothes, nourishes and reduces skin inflammation whilst calming and comforting the mindset.
Sodium PCA:  easily accepted by the skin, binds moisture increasing hydration levels.
Comfrey: extract is rich in allantoin to soothe, smooth and heal irritated skins.
Sweet Almond Oil: abundant in fatty acids to nourish and protect the skin and defend against environmental assault.
Glycerine: a potent humectant which binds moisture to the skin. The natural affinity with both water and oil allows easy absorption over lipid-based substances.
Avocado: rich in Vitamins A, D & E imparts anti-oxidant protection which nourishing the epidermis
How to use: Apply using light fingertip pressure in upward strokes to face and neck. For maximum skin protection continue with sunscreen protection such as Solar Shield or C+Bright in morning.
200ml