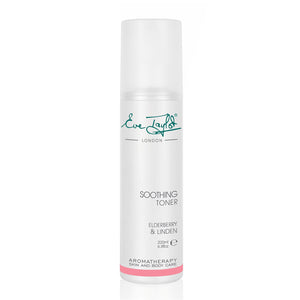 Description: 
A soothing spritz formulated with Chamomile and Lavender waters to instantly soothe and calm the skin while hydrating Aloe Vera refreshes and cools.
Skin type/condition:
Dry, mature or sensitive.
Features & benefits:
The fine mist of water based essential oils freshen and soothe the skin.
Soothing botanicals calms the mind and reduce anxiety.
Hydrating and soothing formula prepares the skin for moisturising.
May use to refresh the skin throughout the day, even over make-up.
Key ingredients:
Aloe Vera Juice: intensively hydrates the skin with moisture, softens and soothes any sensitivity whilst healing the skin at the epithelial level.
Chamomile: offer anti-inflammatory benefits to reddened skin whilst soothing and calming the mindset.
Lavender: reduces redness and inflammation whilst assisting in skin healing
Witch Hazel:  imparts a refreshing, mildly astringent quality.
How to use: With closed eyes spray a fine mist to face and neck. Continue with moisturiser.
200ml