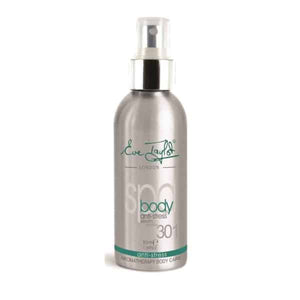 Description
To help relieve underlying localised discomfort in muscles or joints. Helps to relax and soothe areas of sensitivity. May be used on aching muscles due to over exertion of physical activity. This potent blend of soothing, calming essential oils make it ideal for those who in need of deep relaxation.
Skin type/condition:
Suitable for those with muscle or joint discomfort, arthritis, rheumatism, or discomfort due to physical overexertion.
Key ingredients
Essential Oils: The synergistic blend of peppermint, Thyme, Clove, Ginger, Juniper Berry, Marjoram, Black Pepper and Rosemary collectively soothe and warm tension in tissues. By stimulating circulation elimination of toxins is promoted thus assisting oxygenation of tissues.
Function
To relieve joint and muscular aches and pains.
Application
Salon use: Smooth 3-6 pumps of Anti-Stress Body Serum (Specifics.  301) to each body part being treated and spread evenly. Typical areas for application include ankles, knees, hips, shoulders and wrists. Can be applied to any muscular areas of concern. If including body massage as part of the overall treatment, link this body serum with Anti-Stress Body Massage Oil as the perfect partner. This oil based serum is NOT suitable for use with hot stone massage.
Homecare use: Smooth 1-2 pumps of Anti-Stress Body Serum (Specifics. 301) to areas of discomfort as and when needed. May be applied morning and evening.
Note: Do not use Anti-Stress Body Serum (Specifics. 301) if pregnant, or taking prescription medication.