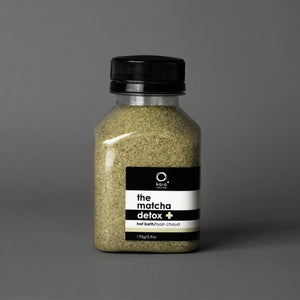 Custom blend of matcha and eucalyptus exfoliates and detoxifies to bring life back to dry, dull looking skin.
Eucalyptus relaxes the body to a tranquil state.
Inspired by ancient Japanese wellness practices, we developed our detox hot baths to closely mimic the healing properties of 'onsen' hot spring water.
The mineral-rich waters from an onsen (Japanese hot springs) helps to promote skin health, reduce inflammation, muscle pain, and boost your immune system. By soaking in hot water, it will also help detox by working the body into a sweat, releasing toxins and impurities.
Detoxification through sweating is very important to the Japanese as they believe detoxification should be done through your body's largest organ – your skin-- using heat.
Using active ingredients turmeric, matcha and sleep-inducing essential oils, customize your detox to what your body needs.
Natural, Vegan, Cruelty-free
NO PARABENS
NO SLS
NO SYNTHETIC FRAGRANCES
 HOW MUCH IS IN THERE?
In every bottle, there is enough for 2-3 luxurious baths.