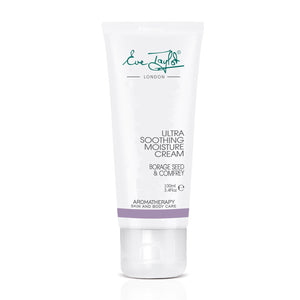 Description: 
Anti-inflammatory plant extracts of Borage Seed and Comfrey calm reactive skin while providing a protective barrier to help restore and strengthen skins barrier function.
Skin type/condition: 
Ultra dry, sensitive, hypersensitive, dehydrated or irritated skin.
Skin experiencing eczema, psoriasis, rosacea or compromised barrier function.

Benefits:
Powerful botanicals help repair skins with an impaired epidermal barrier function.
Anti-inflammatory plant oils reduce redness and skin irritation.
Essential Oil free formulation creates the perfect moisturiser for even the most hyper-sensitive skins.
Key ingredients: 
Borage Seed Oil: rich in Gamma Linoleic Acid (GLA), these fatty acids reduce redness and sensitivity in the skin and strengthen the barrier function by helping to seal the gaps which irritants can penetrate.
Comfrey: imparts powerful anti-inflammatory and healing benefits to help soothe reactive skin.
Dimethicone: emollient properties help decrease itching on the skins surface whilst smoothing, softening and increasing hydration.
Sunflower Oil: abundant in Linoleic Acid, Sunflower Oil deeply nourishes, calms irritation and treats fatty acid deficiency in the skin.
Glycerine: a potent humectant which effectively binds moisture to the skin.
How to use: Apply using light fingertip pressure in upward strokes to face and neck. For maximum skin protection continue with sunscreen protection such as Solar Shield or C+Bright in daytime.
100ml