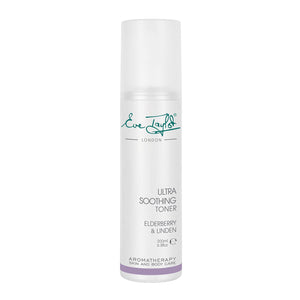 Description:
An ultra soothing formulation packed with potent anti-inflammatories and capillary strengthening extracts to collectively reduce redness and calm irritaton.
Skin type/condition:  
Ultra dry, sensitive, hypersensitive, dehydrated or irritated skin.
Skin experiencing eczema, psoriasis or rosacea.
Key ingredients:

Horse Chestnut Extract – strengthens capillary walls and assists in reducing redness in those with irritated skin or vascular type disorders.
Elderberry Extract – rich in anthocyanins provides potent anti-oxidant properties to neutralise free radicals and defend against damaging pollution.
Glycerine – binds moisture to intensely hydrate moisture depleted skin.
Allantoin – imparts healing actions to the skin.
Benefits:

A fine mist of botanical extracts reduce redness and irritation.
Ultra soothing formulation hydrates and prepares the skin for moisturising.
Anti-oxidant berry extracts defend against pollution and damaging free radicals.
May be used to refresh the skin throughout the day, even over make-up.


How to use:
With closed eyes spray a fine mist to face and neck. Continue with moisturiser. May be used throughout the day to soothe times of irritation.
200ml