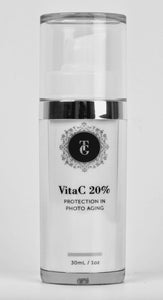 Stabilized Vitamin C has been found in clinical studies to assist in building collagen and brightening skin. Considered a super-star antioxidant, Vitamin C fights off free radicals, slows down the aging process, and even reverses the signs of aging. This formula contains 20% Vitamin C which is one of the highest concentrations on the market.
 Glucosomine, helps boost the immune system of the cells and discourages collagen and elastin degradation. The result is smoother, firmer, plumper skin with diminished visible lines and a healthy, radiant glow.
Green Tea and Wine extracts provide powerful antioxidant properties, supporting skin structure and stimulating cellular repair.
Fun Fact | Vitamin C goes head-to-head with hydroquinone in clinical studies demonstrating its ability to significantly reduce hyperpigmentation and even skin tone.
Benefits
Brightening: Hydrating Reduces the appearance of pigmented areas. Promotes Collagen production Protects against sun damage.
Featured Ingredients
Glucosamine
Green tea Extract
Vitamin C 20%
Wine Extract
Directions for use
Apply 2 pumps of the serum to the face and décolleté each night following thorough cleansing of skin. Layer this serum if desired. It pairs well with Hydralift serum or Retinol Renewing serum. Complete your routine with a complimentary night cream.
Size: 30ml