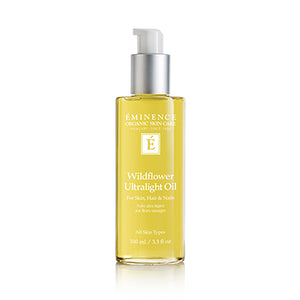 AWARD WINNING
VEGAN
SOY FREE
GLUTEN FREE
This multipurpose ultra-lightweight oil for the body is easily absorbed into skin, hair and nails, leaving a smooth satin finish. Ideal for use after bathing, this natural and organic dry oil absorbs quickly, providing sheer moisture to revitalize the skin's appearance.
Key Ingredients
Evening Primrose Oil: Soothes and restores dry skin, leaving skin looking calm.
Primula oil: Soothes and reduces the appearance of redness due to dryness, leaving skin looking nourished
Echinacea Oil: Protects the skin naturally from environmental stressors causing dryness.
Linden Flower: Antioxidant, moisturizer; nourishes and hydrates the skin.
We Believe in:        We say NO to:

 Organic                
 Parabens            

 Natural                 
 Phthalates

 Biodynamic®        
 Sodium Lauryl Sulfate

 Sustainable           
 Propylene Glycol

 Cruelty Free          
 Animal Testing

Our natural, organic and Biodynamic® ingredients may have slight variations from harvest to harvest.